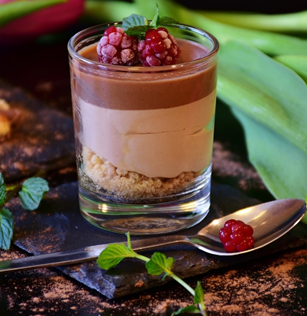 Recipe: Pudding
Welcome to the official page of F&M Chocolates, on this day we will show you a new recipe with 100% Colombian cocoa.
Today we will make a chocolate pudding, for this recipe we will need the following ingredients.
Ingredients:
6 eggs
200 grams of brown sugar
200 grams of flour
250 grams of chopped semisweet chocolate from F&M Chocolates
220 grams of butter
1 teaspoon of baking powder
500 ml of milk cream
The amounts of ingredients shown here are established for approximately 6 servings.
For this recipe you will need the following items.
(2) metal containers, (2) wooden or plastic containers, (1) strainer and (1) wooden spoon or whatever you have available.
Step 1
Cut 200 grams of semi-sweet chocolate from F&M Chocolates into small pieces and melt it in a bain-marie.
Tips: While you are making these ingredients, preheat the oven to 180° Celsius.
Step 2
Pour the brown sugar and flour into the strainer and stir until only the largest stored granules remain in the strainer, use only the already strained or sifted sugar and flour.
Tips: Shake the brown sugar and flour in the strainer for 1-2 minutes.
Step 3
In a wooden bowl, pour the shelled eggs, then add them to the mixing bowl containing the brown sugar and flour.
Step 4
Combine all the ingredients in a single container, stir them until you obtain a homogeneous mass, then pour them into individual molds.
step 5
Place the molds in the preheated oven at a temperature of 180° Celsius, approximately 30 to 40 minutes.
step 6
Once this time has passed, take them out of the oven and let them take the desired temperature.
step 7
In a metal container, pour the heavy cream and the 50 grams of leftover F&M Chocolates chocolate, break them into pieces and put everything over low heat until it melts.
Tips: With a wooden spoon or whatever you have available, mix these ingredients until it is liquid, this will be the sauce.
step 8
Serve the pudding in a glass, porcelain or whatever you have available, then pour the chocolate sauce in the amount you want.
To decorate
You can decorate your recipe with any fruit or topping.
Share your pudding with the people you love the most.