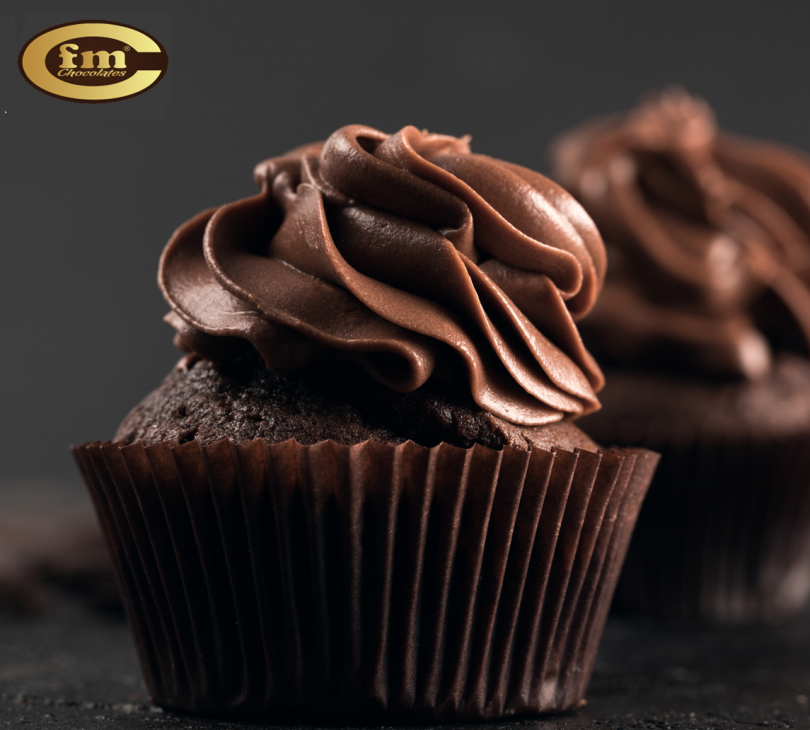 Step by step to make a chocolate muffin.
Welcome! On this day we want to tell you about one of the countless recipes that you can make with the chocolates from F&M Chocolates. Keep in mind that we have the widest line of chocolate ingredients for confectionery and bakery, providing ingredients of delicious flavor and high quality. To make this recipe, you must use ovenable chocolate-flavored chips specially manufactured by F&M Chocolates to resist high temperatures.
Ingredients
1½ cups (180g) all-purpose flour
½ cup (60 g) cocoa powder.
1 cup (150 g) chocolate chips (drops) from F&M Chocolates.
½ cup (100 g) white granulated sugar.
1½ teaspoons (10 g) of baking powder.
1 teaspoon (5 g) of baking soda.
½ teaspoon (2.5 g) of salt.
¾ cup (180 ml) of milk.
1/3 cup (80 ml) vegetable or canola oil.
1 large egg
Step 1 "cup 1"
Combine flour, sugar (white), salt (your choice), baking powder, baking soda, F&M Chocolates chocolate chips, and cocoa powder in a large bowl; stir with a spoon until all ingredients are mixed well.
Step 2 "cup 2"
Mix: Crack an egg, add milk (whole) and oil (your choice), stir with a fork until well blended.
Step 3
Mix cup 1 with cup 2, until all the ingredients are well mixed, make sure not to mix too much as it can change the consistency of the muffin.
Step 4
In muffin molds, introduce pyrotines or capacillos (paper baking molds for muffins), or oil or grease the aluminum molds (so that the dough does not stick during baking).
step 5
Fill the pyrotines/capazillos or the aluminum molds with the dough already made in the previous steps, up to 2/3 parts and then carefully put them in the oven.
Tips: If you wish, for a better texture and softness, once the dough is in the pyrotines or molds, add more chocolate chips (drops) from F&M Chocolates on top, plus a pinch of sugar.
step 6
Then introduce the mold in a preheated oven at 200 °C – 400 °F for approximately 18 to 20 minutes.
Tips: Once the time to put the muffins in the oven has passed, prick it with a toothpick, if the dough does not stick to it you can take the muffins out of the oven, on the contrary, if the dough sticks to the toothpick, make the same process constantly until the dough does not stick to it.
step 7
Now let them cool
Tips: let the muffins warm up, if they are alone in the mold, if they are in the muffins you can remove them with a knife or a toothpick and leave them on a tray or plate until they cool.
step 8
If you want a better decoration, add a little chocolate or vanilla cream on top of the muffin.
We hope this recipe will be of great help to you, if you want to know more recipes like these send us a message.