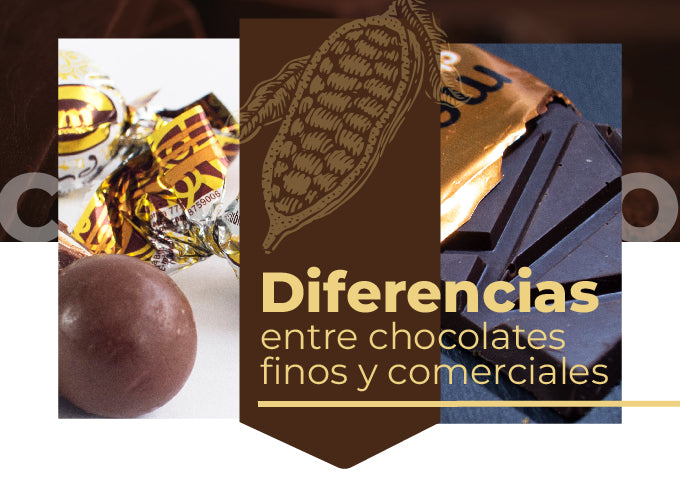 Differences between fine and commercial chocolates
Differences between fine and commercial chocolates
We know that you like chocolate in all its forms and that you know that in our company you can find them in all presentations, commercial and for fine chocolates; either in chips, dragees, bars, toppings, among others.
That is why we want to tell you a little about what makes us so special, and why we call some of our chocolates "Fine Chocolates" so that you can keep in mind the difference between a commercial chocolate and a fine one.
Although we have a commercial line that allows us to make special developments, based on technology and tailor-made formulations, the selection we make of the raw materials we use gives us the possibility of achieving a careful product throughout the value chain and that adjusts to the needs and palate of our customers.
SO WHAT IS THE DIFFERENCE?
In our case, we work with 100% Colombian cocoa, which is why they are called "Fine and aroma cocoas" , so you can be sure that our commercial and premium lines have the best selection of cocoa, since the beans used directly determine the quality and flavors of the chocolate.
In the case of more commercial lines of chocolate, we find that it often has a higher percentage of sugar and in some cases vanilla, this with the aim of homogenizing the flavors in the formula and making them adaptable to industrial uses such as confectionery and mixtures with other ingredients.
For fine chocolate or the premium line, it corresponds to the semi-sweet and dark chocolates, with a high percentage of pure cocoa and less sugar, in which you can find tablets and coatings with different percentages of cocoa. Here, sensory analysis is the main mechanism to determine the grains to be used in its production, since environmental conditions and decisions related to harvest, post-harvest and the transformation technique that we use directly affect the flavors.
Our experience of more than 20 years in the market allows us to have a very wide range of chocolate products from industrial lines for confectionery and derivatives, volume production chocolates such as chocolates, chips, coated with dehydrated fruit or nuts, as well as toppings. and premium chocolate bars made by hand (bean to bar).
Now you know about the world behind a "Fine Chocolate", remember that you can find the customized option for your business or personal consumption.