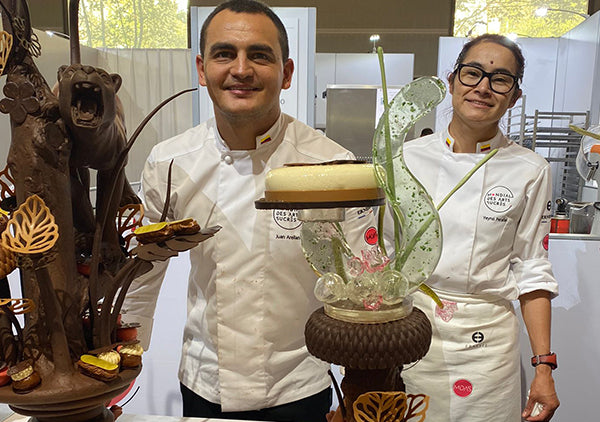 Colombia at the Mondial des Arts Sucrés (MDAS)
What is the MDAS about?
The Sweet Arts World Cup is the most important pastry competition in the world, it takes place every 2 years to discover the best talents globally. This competition takes place within the framework of the most important event in the world dedicated to chocolate and cocoa, El Salón del Chocolate. In this year's edition, 14 countries participated (Venezuela, Ukraine, Mexico, Canada, Taiwan, Malaysia, Colombia, Morocco, Japan, India, Georgia, Ecuador, Japan, Brazil and France).
Colombian participation in the MDAS
Representing our country were Yensi Perafan, a pastry chef from Huila; and Juan Arellano, a Bogota pastry chef. F&M Chocolates was part of the group of sponsors that made this representation possible on such an important stage worldwide for the chocolate industry.
The event lasted 4 days, from October 28 to 31. The participating countries were divided into two groups, each competing for 2 days. Colombia competed on October 28 and 29 along with France, Brazil, Ukraine, Malaysia, Taiwan and Mexico. Finally, our country ranked seventh in the final ranking of the Sweet Arts World Cup:
France / 2686 points

Japan / 2623 points

Malaysia / 2397 points

Taiwan / 2342 points

India / 2180 points

Canada / 2018 points

Colombia / 1861 points

Ukraine / 1739 points

Ecuador / 1705 points

Georgia / 1700 points

Mexico / 1639 points

Brazil / 1626 points

Venezuela / 1587 points

Morocco / 1496 points
We look forward to 2024 and the next edition of the Sweet Arts World Cup to continue contributing to the representation of our country on large stages.